In 2018, the Ministry of Health (MOH) launched the Licensing Experimentation and Adaptation Programme (LEAP). Under LEAP, MOH established a regulatory sandbox where new and innovative telemedicine healthcare models can be developed and refined in a controlled and safe environment.
For identification purposes, all MOH sandbox providers will bear the above Regulatory Sandbox logo. Telemedicine services (e.g. tele-consultation services which provide direct clinical care from a doctor to a patient) are the first to come under LEAP.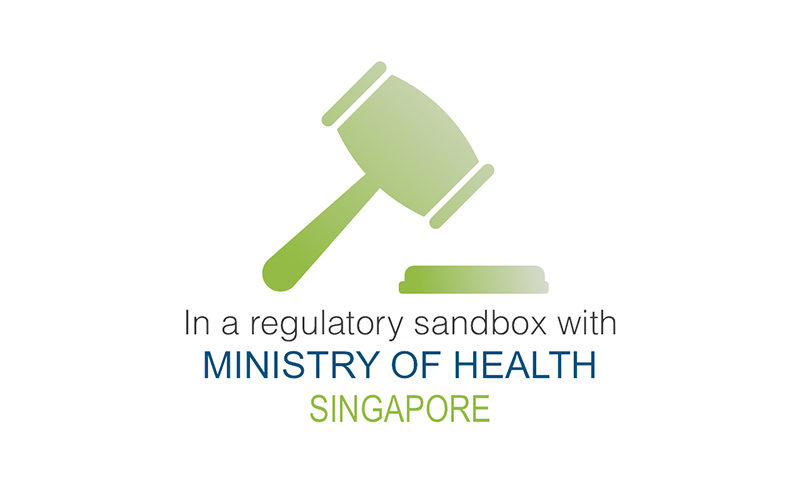 On 18 April 2018, after months of extensive dialogue with MOH and having met its stringent standards, WhiteCoat was selected to be one of the first participating providers to enter in the regulatory sandbox. The collaboration marks WhiteCoat's long term commitment to providing the community with quality healthcare which is accessible, affordable and appropriate. As a participating healthcare provider in the regulatory sandbox, WhiteCoat has identified and committed to robust safety standards in relation to clinical processes, medication delivery, data protection policies and other best practices.
WhiteCoat continues to work closely in collaboration with MOH to ensure its services meet appropriate regulatory standards, with patient safety and welfare being the paramount consideration. This means that the public can be assured that WhiteCoat's clinical and operational processes have been thoroughly reviewed and continuously monitored by MOH so that telemedicine services are provided by WhiteCoat in a safe and reliable manner.
In addition, MOH will work with WhiteCoat to set clear boundary conditions, undertake clinical and data governance, and patient risk mitigation strategies. Through the collaboration, ahead of regulation of telemedicine under the upcoming Healthcare Services Act in 2020, MOH will also be able to develop a timely, fit-for-purpose and effective regulatory framework that both supports emerging healthcare services as well as safeguards patient and caregiver interests.
Beyond meeting practice standards, WhiteCoat strives to make its services compatible with more of Singapore's healthcare subsidies and aid schemes in the near future and to continually improve its services so as to deliver a better healthcare experience to the community.